And fall it did. After waiting and waiting, no race today. Drat.
And while I probably will have to have my NASCAR app playing in my ear during spinning guild tomorrow if they race (weather doesn't look good then either), the weekend wasn't an entire wash.
In the last two days I finished two (2!) WIPs! I managed to finish Sporto yesterday. And I didn't want to pick up Evelyn's cardigan to knit during the race--too much counting to watch for decreases. So I dug out a vest I made over a year ago, but that needed adjustments. I shortened the armholes and re-stitched. They go fast with super bulky yarn.
Another finished project!
Pictures of my Jeweled Sporto will be taken during Show & Tell tomorrow at spinning. But for now here is Gertrude and my so called Burly Quick Vest. Just not too quick.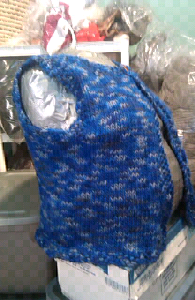 Now, to look at the Misty Blue Cardi.